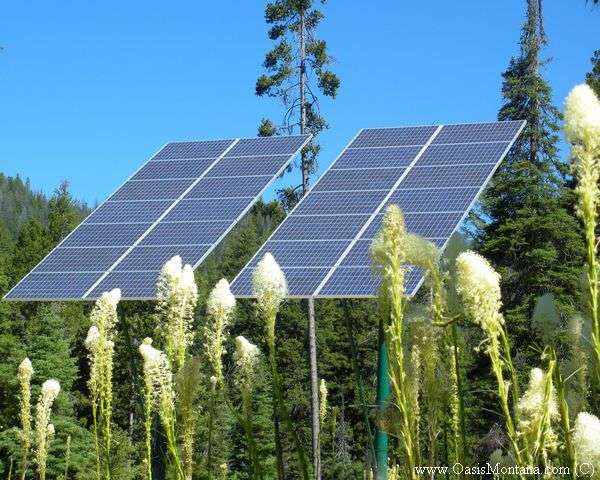 WELCOME TO OASIS MONTANA HOME PAGE!
We're here to offer our products and design skills for your residential solar power systems or other renewable energy electric systems. Our systems include the use of solar panels, wind (turbine) generators; we provide components for emergency power back-up, off-grid homes, RVs, solar water pumping, telecommunications, general battery charging, marine applications, grid tie electric power systems and efficient refrigeration. We have a great deal of data about these electric power systems in our webpages; take your time to explore the information we offer.
THE INDEX: Please click on our products and topics below to get the information you want.
Oasis Montana Home Page and Index -- You can always jump back to this page and look at the other information and products we have to offer by clicking on the respective link. Get back to this Index Page by clicking on the HOME PAGE: www.oasismontana.com link at the bottom of each page.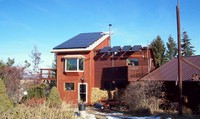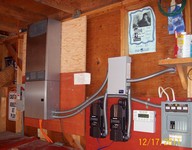 Left New solar array on roof of Oasis Montana office. Right New Radian inverter & charge controllers on Oasis system.
Water Purification System -- GenPro introduces its X-series, providing microbiologically safe drinking water, and its SW-series for desalination. From small suitcase filtration systems to large scale reverse osmosis water purification systems and desalinization systems, GenPro has the expertise and products to assist you with your requirements.

Creating Shade with a PV System -- Read an interesting article on making shade with your PV system.

Figuring Power Requirements -- Use this page to help ascertain your power requirements in terms of watt-hours per day; a chart is listed with the watts used by common appliances.
Load Evaluation Form -- This form can simplify adding up your electrical loads.
Insolation Map & Example Systems -- Once you've come up with the total watt-hours per day you need, you can get an idea of costs, necessary components and power output, based on your location in the U.S., by looking through these systems. Systems range from a one-panel system up to a 10,000 watt-hour per day system.
Alternate Energy Component Overview -- You can find basic information about solar power and the components of renewable energy electric power systems for solar modules, wind generators, inverters, batteries, etc.
Efficient Refrigeration -- Information is provided about energy efficient units, propane units, costs and options. Ever wonder why we want you to get rid of your old energy hog? --click here to find out!
Crystal Cold Propane LP Refrigerators -- These units are the biggest and most gas efficient units made in America; built by the Amish for the Amish, who usually have large families and demand high performance. These heavy duty refrigerators are designed to give decades of service.
Blizzard LP Freezers -- Upright propane freezers made by the Amish in the Midwest -- 15 and 22 cu. ft. capacities available.
Peerless LP / Natural Gas Kitchen Ranges -- A variety of sizes, models, and options are available in these high quality natural gas or propane kitchen stoves, in 20", 24", 30" and 36" wide units. NEW units now available in stainless steel.
Troubleshooting your LP Refrigerator -- Problem? You may be able to avoid an unnecessary service call with some DIY tips.
Vestfrost (Conserv) AC Refrigerator/Freezer -- The tall slender Vestfrost refrigerators (made in Denmark) were discontinued a few years ago; however, there are other efficient, quiet Euro models available if you seek a very similar refrigerator.
Fuel Generators -- Information about fuel and back-up generators and what to look for in a "Gen-Verter" system.
Solar Water Pumping -- The basics of solar water pumping systems are offered here. Whether for stock watering or for your remote cabin, we can design a pump system to suit your needs.
Contact Us/How To Order -- If there's a component you need and can't find, let us know; if we can't come up with it, we may be able to refer you to a supplier who can. And, let us know your thoughts and comments! We'd like to hear from you! We accept Visa and Mastercard for your convenience; money orders, bank transfers, and personal checks are fine. For our international customers, we accept bank transfers only.
Battery-less, grid-tie, solar electric power inverters -- These inverters offer the easiest and least expensive way to Go Green and install a solar electric power system that will reduce or eliminate your monthly power bill.