The Importance of WATER...
You can live without a lot of things in the world, but water isn't one of them; clean potable water is running low or just becoming unavailable in many parts of the world, including the U.S. We've been engaged in solar water pumping for two decades, and there's been many changing technologies to address water needs for residential use, and commercial endeavors such as irrigation, livestock, fish farms and wildlife management. One of the latest is to run a 240VAC pump array direct – that is, it will run when the sun is shining, and requires a solar array but no batteries. These will run a variety of pumps, 120/240V, three-phase, and change a 1 or 2 speed motor pump to a soft start. You can view information about this new technology at http://www.pvsolarpumps.com/PDFs/PicoCell Spec Sheet_Oasis Montana.pdf

Now there are even more options; if you have the need for higher amperage and horsepower, the Picocell will now handle up to 3 HP and 12 amps. These solar-powered pumps will allow your home or business to qualify for a variety of tax credits, grants, and incentive programs. If you are looking for something to power your large AC pump, give us a call or visit (insert New Picocell PDF here, which should be on the solar pumping page so perhaps a link from this to there would be smart).
Call us for more information, 406-777-4321.

And if you've been thinking of an off-grid water pumping project, you are likely to enjoy this short video from one of our pump suppliers, Lorentz.
https://www.youtube.com/watch?v=9vbONlDqmZQ
---
---
Why energy efficiency is SO important.
The cheapest power is that which we do not use. https://nwenergy.org/ for more information!
---
Is this proper grounding?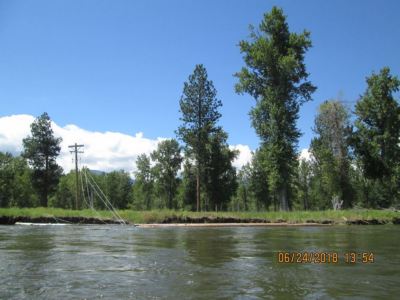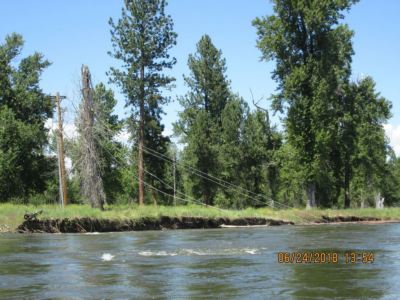 or maybe
Sometimes utility power is at the mercy of the elements,
as shown by these downed power lines in a flooding Montana river.
---
We assisted Bryan & Shannon Tarter of southeastern Montana in their system upgrade, adding more solar modules
and going from a 12V system to replacing with a new 48V inverter for their remote home. Nice going!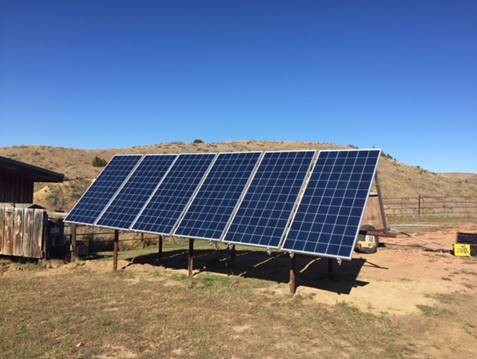 ---
STAINLESS DOOR REFRIGERATOR FOR SMALL KITCHENS
If you have a space-challenged kitchen (or a small cabin needing a fridge), we have an efficient, beautiful AC refrigerator option for you.
MODEL FF923PL (uses only 865 watt-hours per day, or .865KWH).
.

FF923pl SPECIFICATIONS:

Height of Cabinet

66.63" (169 cm)

Height to Hinge Cap

67.13" (171 cm)

Width

21.25" (54 cm)

Width with Door Open

22.0" (56 cm)

Depth

23.25" (59 cm)

Depth with door at 90°

43.0" (109 cm)

Capacity

8.9 cu.ft. (252 L)

Defrost Type

Frost-Free

Door

Stainless Steel

Cabinet

Black

US Electrical Safety

CSA

Canadian Electrical Safety

CSA-C

Energy Usage/Year

316.0kWh/year

Amps

0.9

Voltage/Frequency

115 V AC/60 Hz

Weight

110.0 lbs. (50 kg)

Shipping Weight

115.0 lbs. (52 kg)

Parts & Labor Warranty

1 Year

Compressor Warranty

5 Years
We have other efficient refrigeration options available; visit www.eco-fridge.com for AC & DC offerings, and www.LPappliances.com, for refrigerators, freezers and gas ranges that operate off of NG or LP gas with NO electrical requirements.
---
Renewable Energy News Bites
Quotable quotes
"One doesn't have to operate with great malice to do great harm. The absence of empathy and understanding are sufficient."
-Charles M. Blow
"People don't notice whether it's winter or summer if they're happy."
–Anton Chekhov
"Winter is not a season, it's an occupation."
–Sinclair Lewis
"Optimize the way we use the world's resources. Do more with less. Don't wait for the politicians. See what needs to be done and do it."
–R. Buckminster Fuller
"Ah, the Summer Solstice, all is green and growing, potential coming into being, the miracle of manifestation painted large on the canvas of awareness. At the Winter Solstice, the wind is cold, the trees are bare, and all lies in stillness beneath the blanket of snow."
–Gary Zukav
"Humans have complicated every simple gift of the gods."
–Diogenes
"Bad days happen to everyone, but when one happens to you, just keep doing your best and never let a bad day make you feel bad about yourself."
-Big Bird
"People of North America, may the example of all those nations that have preceded you, and especially that of your motherland, instruct you. Beware of the affluence of gold that brings with it the corruption of morals and the scorn of laws; beware of an unbalanced distribution of wealth that will give rise to a small number of opulent citizens and a horde of citizens in poverty, a situation that will engender the insolence of some and the deprivation of others."
-Diderot
"I had always hoped that this land might become a safe and agreeable asylum to the virtuous and persecuted part of mankind, to whatever nation they might belong."
- George Washington