Greetings from our solar powered office!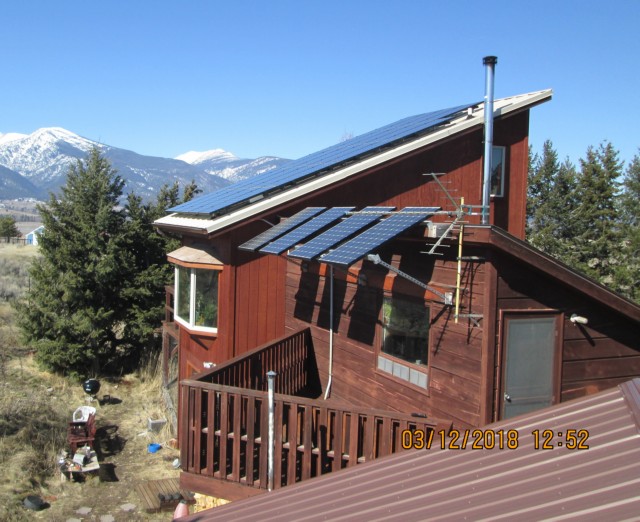 Spring 2018 Renewable Energy Newsletter from Oasis Montana
In the event of a lengthy power outage, what are your critical loads?
With the presence of winter storms, hurricanes, tornados and aging grid infrastructure as part of daily life, many people are rethinking how reliable utility power really is, and we are getting more calls for back-up power for certain loads. Some of our customers just need to have power for charging their cell phones, Kindles, tablets or similar devices (and a couple of lights or a small TV for an hour or so); a small system for them might entail the following components:

System #1, small system: One ~300W solar module, 300W sine wave inverter, charge controller, 12V 55AH AGM battery, combiner enclosure with fuse, flush roof rack, panel output cable; $1449
For additional information on smallish, RV-type systems, visit http://www.oasismontana.com/RV_systems.html.

Other folks are concerned about losing their food if the grid goes down, so they'll want to power their refrigerator and perhaps a freezer too. If your appliances are of more recent vintage, backing them up will cost much less than if they are older, less efficient models. An efficient refrigerator shouldn't use much more than a kilowatthour a day, and a freezer might be in the ~1.5KWH range (but contact the manufacturer to be certain). A system to power those loads, plus a couple of lights, might entail these components:

System #2, medium system: (MS2812 Magnum inverter, 6 ~300W solar modules, 6X top of pole mount, Classic 200 MPPT charge controller, 4 L16 type batteries + cabling, battery monitor, interconnects, combiners and disconnects; $8700

If you don't have city water, a common concern is powering your well pump. One can live without a lot of things but water is not one of them! And many deep well pumps are 240VAC; if you needed a backup power system to run your ½ HP 240VAC pump, say, one hour a day, plus extra power for a fridge and small loads, you might be looking at a system of this size:

System #3, large system: (Radian GS4048 – loaded, on a pre-wired power center that includes the charge controller, MATE3 system monitor, disconnects, etc., 12 – ~300W solar modules, 16 – L16 type batteries, pole mount, battery cabling = $14750

Costs do not include freight, installation, concrete footer for pole mounts, ground rod & clamp, and miscellaneous electrical widgets or wire runs.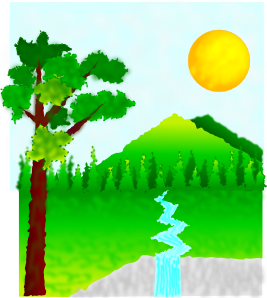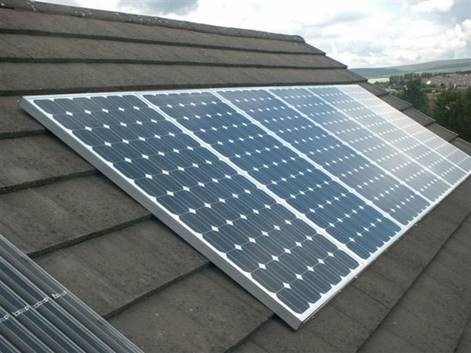 Some people think solar modules are ugly – but I think they're beautiful…and how wonderful it is to get electricity from sunlight!
And, you can enjoy saving money while saving the planet.


------------------------------------------------------------------------------------------------
Are you looking at a stock watering project this year? Or you want power for a pump if the utility fails? Or perhaps you have a pond to fill, or fruit trees that need irrigating? A remote cabin? Contact us for all your remote water pumping needs; visit www.PVsolarpumps.com for more information.


If your only concern if the power goes out is water and you have a, say, 1.5 HP 240VAC pump, we can now run many of those pumps array direct whenever the sun is shining. So if you need water for irrigation or stock, this new PicoCell system might be just what you need. The PicoCell, from SunTech Drives, is now part of our line of quality solar products, and we look forward to the next generation of their solar evolution as the newer and more robust water pump solutions come on board. Being powerless doesn't mean being waterless any more! Depending on your water pump make and model, we may have a solution for those times when the power is gone but the need for water exists and the sun is shining. Three-phase water pumps and motors under 2HP manufactured by Berkley, Franklin, Flint, Goulds, Grundfos, Myers and Wailing are all great candidates for using the new PicoCell from SunTech Drive to run your water pump while the sun is shining and conventional power is out. Single phase pumps up to 1HP from these same manufacturers, including Sta-Rite are able to operate effectively also. Call for more information or to see if your pump will work with a PicoCell. 406-777-4321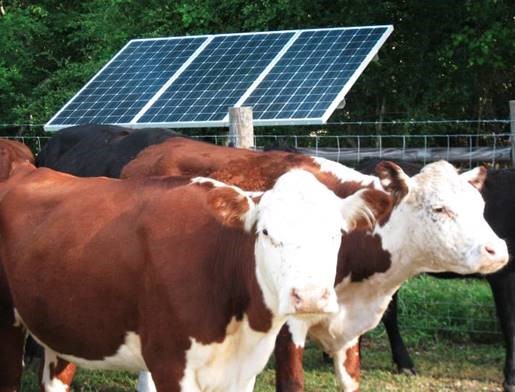 Cows LOVE solar water pumping!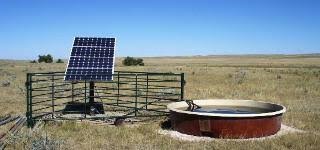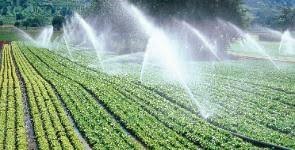 | | |
| --- | --- |
| | We offer the Grundfos, SunRotor, Dankoff and Lorentz pump line, from submersible to surface pumps. And we can power your 240VAC pump too! 406-777-4321 for tech support on pump systems. |

-------------------------------------------------------------------------------

TAX SEASON is nearly upon us! If you had a solar power system installed and running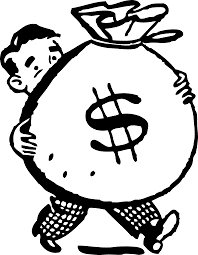 by 31st December, 2017, you are eligible for a 30% tax credit of the cost of your solar module installation, less any state incentives or rebates. The 30% tax credit is still available through the end of 2019, so now the time is ripe for investment in the solar power system of your dreams. It is also available for certain types of solar thermal (hot water and space heating) systems. https://www.energystar.gov/about/federal_tax_credits/solar_energy_systems for the links about the federal tax credit; http://www.dsireusa.org for a state-by-state database of all renewable incentives; and https://www.irs.gov/pub/irs-pdf/f5695.pdf for the personal tax credit form. We are NOT tax experts, so when in doubt, consult your accountant or visit the IRS website at https://www.irs.gov/instructions/i5695?utm_source=Iron+Edison+Newsletter&utm_campaign=35a4413d23-EMAIL_CAMPAIGN_2018_01_22&utm_medium=email&utm_term=0_eaf26bfcab-35a4413d23-135295541&mc_cid=35a4413d23&mc_eid=6d3c772416
--------------------------------------------------------------------------------------
OUTBACK POWER has a new charge controller, the FlexMax 100! This will allow for longer strings of solar modules and is fully NEC 2014 compliant with the Outback ICS Plus. It offers: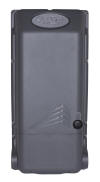 > a rainproof outdoor IP54/Type PR enclosure
> 100A output for up to 5KW of charging
> suitable for 24, 36 or 48V battery banks
> updated MPPT software algorithm means more power than other controllers
> up to 99% efficiency; LED indicators status display
> Five year warranty
> system configures quickly (MATE3S required)
> minimum battery bank size: 100ah
> had built in GFCI, field-replaceable cooling fan
> built in 128 days of data logging

You can view more information on this exciting new charge controller at http://www.outbackpower.com/outback-products/make-the-power/flexmax-series-charge-controllers/item/flexmax-100?category_id=531
Now available at a special introductory price of $1045 plus shipping (offer good til 4/30/18)
----------------------------------------------------------------------------------------
NEW PRODUCT FEATURE
MNChinook 200 Wind Turbine Now Officially Available

The Chinook 200 is now new and improved, a direct-drive micro-turbine designed for use in 12, 24 or 48 volt DC battery charging applications. Its attractive low-profile design, exceptional performance in low winds and low rotor acoustics, make this turbine the ideal choice for almost any application. It's also very quiet, and mounts on a 1.5" Schedule 40 steel pipe.

The Chinook 200 can also work hand-in-hand with PV panels to ensure that power is being generated in all weather conditions; they can be charging the same battery bank, and are also suitable for marine use. The MidNite Chinook Diversion Load (CDL) is an integrated solution designed to prevent 12, 24 or 48 volt batteries from overcharging and is included with the Chinook 200. Compact and easy to install, the CDL incorporates a 300 Watt resistive heating element and controller board in a powder coated steel enclosure. $995 plus shipping includes its dump load controller. The output voltage is not field selectable and must be ordered for either 12V, 24V or 48V battery charging. Designed in Montana and still made in the USA, if you have good average wind speeds (10-12 mph+) you will find this to be an excellent addition to your battery charging scheme.
--------------------------------------------------------------------
SOLAR PANELS: Despite the 30% import tariff on certain incoming solar modules, there are still a lot of good deals to be had.

NEO Solar Power 360W Mono 72 cell, Tier 1 module Vmp 39.01V Imp 9.23A 77" x 35", pallet quantity is 30; minimum order quantity is 10. Cost is $309 per module in pallet quantities.

MightyMax Solar 150W 12V nominal modules, 24/pallet, Vmp 17.7V Imp 8.47A 39.'" X 39", cost is $215 each in pallet quantities.

Hanwha QCells Black Q.Peak G4.1 295W Vmp 32.19V Imp 9.17A 65.7" x 39.4", minimum quantity 4, cost $269 each

Canadian Solar MaxPower CS6U-325P (poly), 325W, Vmp 37V Imp 8.78A 77.2" x 39.1", minimum quantity 4, cost $298 each

LG Mono 330E1C-A5 330W AC module (includes Enphase IQ6+Micro-inverter) 66.38" x 40", minimum quantity 4, $555 each (max string 13 of these AC modules)

SolarWorld Plus SW300 Mono 300W Vmp 32.6V Imp 9.31A 65.95" x 39.4", minimum quantity 4, $360 each

GLC
325W Multicrystalline Vmp 37.6V Imp 8.64A, 77" x 39.05", 26 per pallet, cost is $269 each in pallet quantities.
We can also source a variety of other solar products including Trina, ET Solar, Yingle, Jinko, Csun, etc.
Many of our suppliers have a substantial fee for less than pallet quantities.
--------------------------------------------------------------------

Yes it's finally SPRING
and we are offering our gorgeous indigenous corn seed to you for the price of postage. An ounce is about 100 seeds and (since the P.O. considers this a 'package'), cost to mail you about 1.5 ounces is $1.21

--------------------------------------------------------------------
No power is no problem with our gas refrigerators – now featuring the new economical HOMESTEADER line by Diamond
The manufacturers of the Diamond propane gas refrigerators are now offering a non-CSA certified offering available as a refrigerator/freezer unit in 19 cu.ft. and 21 cu.ft. capacities. While this means we cannot ship these to Canada, their cooling performance is not compromised in any fashion – in fact these have the same identical cooling unit as those installed in the Diamond gas fridges of the same size. These are some of the finest performing gas absorption units in the industry. Both sizes will be offered in the popular white, black and also stainless steel finishes, and they are less costly than most other models in the full size range. Here are the specifications:
19 cu.ft. Homesteader
Refrigerator Capacity 14.4 cu.ft.

Freezer Capacity 4.7 cu.ft. (includes one shelf)

Thermostatically Controlled

Piezo Ignition w/ Flame Display

Two Clear Vegetable Crispers

Two Glass Adjustable Fridge Shelves

Five Door Racks

Interior LED light (4 AA batteries not included)

Reversable Doors – Textured

Rollers (for ease of moving it around)

Approximate Gas Usage Per Day: 1.5 lbs.

Warranty on Cooling Unit: 5 years

Outside Dimensions: 29.5"W x 36"D x 65.5"H

Weight: 295 lbs.

White or Black Finish: $1995 introductory Price

Stainless Steel Doors: $2065




---------------------------------------------------

21 cu.ft. Homesteader

Refrigerator Capacity 15.1 cu.ft.

Freezer Capacity 5.9 cu.ft. (includes one shelf)

Thermostatically Controlled

Piezo Ignition w/ Flame Display

Two Clear Vegetable Crispers

Two Glass Adjustable Fridge Shelves

Five Door Racks

Interior LED light (4 AA batteries not included)

Reversable Doors – Textured

Rollers (for ease of moving it around)

Approximate Gas Usage Per Day: 1.75 lbs.

Warranty on Cooling Unit: 5 years

Outside Dimensions: 30"W x 39"D x 69"H

Weight: 335 lbs.

White or Black Finish: $2195 introductory Price

Stainless Steel Doors: $2295



Call for your freight costs on these fine appliances; the least costly freight deal is if these can ship to a business or commercial drop point 'on the beaten path' that has a forklift. For residential deliveries, there must be access for a big truck to get in and out, paved all the way, so residential deliveries are not available in all locations due to access issues. If you want to run your gas fridge off of natural gas, these are a little more costly, call for your price, 406-777-4309.



If you need a stove or drop-in cook top that requires no electricity, visit our gas appliance site at www.LPappliances.com.


Renewable Energy News Bites

San Diego Padres install baseball's biggest solar project: http://www.sandiegouniontribune.com/business/energy-green/sd-fi-padres-solar-20180117-story.html?utm_source=Sailthru&utm_medium=email&utm_campaign=Issue:%202018-01-18%20Utility%20Dive%20Solar%20%5Bissue:13670%5D&utm_term=Utility%20Dive:%20Solar

Wind farms aren't the bird killers they're made out to be: http://theconversation.com/wind-farms-are-hardly-the-bird-slayers-theyre-made-out-to-be-heres-why-79567?utm_source=facebook&utm_medium=facebookbutton

Thirsty? Water is becoming the new oil: http://www.bbc.com/news/world-42982959 And more on water scarcity: https://www.cbsnews.com/news/world-leaders-sound-alarm-over-global-water-crisis/

How do you determine the value of a PV system if you sell your home? https://www.solarunitedneighbors.org/wp-content/uploads/2018/02/Selling-a-solar-home-web-version.pdf

Renewable Energy Doesn't Get More in Subsidies Than Fossil & Nuclear Energy Have Gotten & Continue to Get: https://cleantechnica.com/2018/01/26/renewable-energy-doesnt-get-subsidies-fossil-nuclear-sources-gotten-continue-get

Redox flow battery could revolutionize energy storage: https://pv-magazine-usa.com/2018/02/13/u-s-researchers-develop-new-redox-flow-compound/

This is great! It's a story of the origin of the solar power industry, and (hint) it starts in Northern California: http://outsideinradio.org/shows/2018/1/4/stoner-panels

New big batteries will go online to backup wind power in TX: https://nawindpower.com/e-ons-battery-storage-starts-west-texas-wind-farms?utm_source=ACORE+Mailing+List&utm_campaign=7e3ed2eb3f-ECG_Daily_Note_1_11_18&utm_medium=email&utm_term=0_6ccfb2f247-7e3ed2eb3f-59360533&mc_cid=7e3ed2eb3f&mc_eid=5168ecb6e2

IRS Letter on Home Batteries Could 'Open Floodgates for Residential Storage Retrofits': https://www.greentechmedia.com/articles/read/irs-says-that-batteries-can-take-the-federal-tax-credit#gs.Og90Rm0 and
https://www.utilitydive.com/news/irs-residential-storage-eligible-for-itc-when-charged-by-onsite-solar/518377 The Internal Revenue Service has released a private letter ruling determining that a residential energy storage facility may qualify for the 30 percent federal solar investment tax credit if it is charged completely by an onsite solar array.

Import tariffs on steel/aluminum will raise rack costs: https://pv-magazine-usa.com/2018/03/07/tariffs-on-steel-aluminum-to-hit-racking-tracking-mounting-systems-makers/

Wind Expected to Surpass Hydro as Largest Renewable Electricity Generation Source: https://www.eia.gov/todayinenergy/detail.php?id=34652

Methane - The Greenhouse Gas Pruitt Actually Worries About: https://www.eenews.net/stories/1060071609 Scott Pruitt is one of the Trump administration's most aggressive critics of climate change science. But when it comes to methane, Pruitt has found common ground with climate scientists and environmentalists by calling the greenhouse gas a dangerous air pollutant. Reportedly, Pruitt recently told a group of environmental activists, known as Moms Clean Air Force, that he believed methane is contributing to global warming.

Freedom of speech? Not so much. https://www.commondreams.org/views/2018/02/11/woman-dragged-out-west-virginia-house-hearing-listing-oil-and-gas-contributions?utm_campaign=shareaholic&utm_medium=facebook&utm_source=socialnetwork

Trump talks up 30% solar tariff: https://pv-magazine-usa.com/2018/02/26/trump-talks-up-section-201-solar-tariff/

Map details where the solar jobs are in the U.S. : https://pv-magazine-usa.com/2018/03/29/solar-foundation-launches-national-job-map-and-state-factsheets/

New map reveals clean energy's impact on a national and local scale: https://pv-magazine-usa.com/press-releases/new-map-reveals-clean-energys-economic-impact-on-national-and-local-scale/ and http://www.cleanenergyprogress.com/

--------------------------------------------

Our customer Mike Stevenson of eastern Montana says it loud and clear: pole mounts are the way to go in snow country! You get more power in winter and the tilt keeps the snow off of the solar modules.
-------------------------------------------